Mac OS X is a great OS by nature… It was built to be an beautiful and powerful system… But there are some applications that can make our experience with this OS even better… Oh, and they are free… 1. Quicksilver: Open applications at the speed of a thinking.
Quicksilver is and application similar to OS X's Spotlight, but, infinitely powerful… Different than Spotlight, it concentrates on what you frequently use, by learning how you work… A must have app… 2. Find Any File: Search faster and better.
Spotlight works great with indexed volumes, but, we also know that by enabling the indexing of every volume, we may have a very low system… So, if you don't want to slow down the system by indexing every volume, you must use this app, and also, apart the speed, you will have many more search options… 3. Disk inventory X: Find out what is taking the disk space.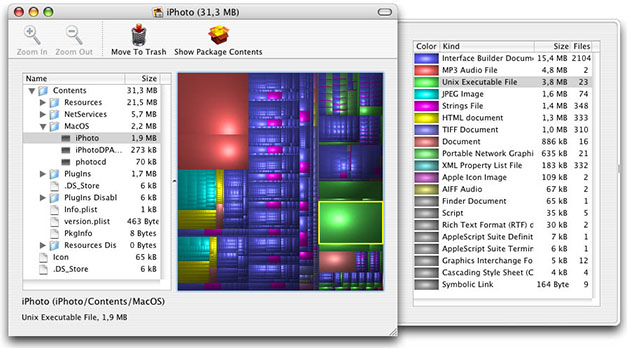 Do you want to manage the disk usage like a Pro? So, you need this app… 4. AppCleaner: Completely remove unwanted applications.
OS X is awesome! If you want to remove a non-System application that wasn't installed through an installer, you just have to drop it at the trash right? Well, this is a half true… By dropping the application to the trash you will remove the application itself, but not its preferences or caches… So, if you want to completely wipe all application related stuff, you must use this app… 5. Onyx: Clean and Optimize your System.
Onyx is a Multi Function application that will help you to clean the system and also, give to you access to some other utilities like check the SMART status of the disk, hide a volume or folder, and many other things… 6. iTerm2: Use the Command Line more and better.
OS X's Terminal.app is great! But you'll really enjoy what iTerm2 offers to you… You can use hotkeys to hide/show, search for a string at the output, access copy/paste history, split the window, and much more… 7. TextMate2: Edit any text file with powerful features.
This is the best text editor for Regular or Advanced use like WebDesign or Programming… You will really like it…